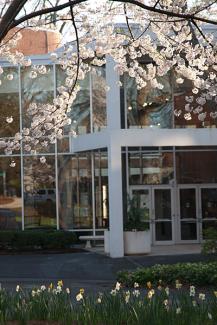 ORGANIZERS:
T. N. Sriram and Nitis Mukhopadhyay
LOCATION:
Georgia Center for Continuing Education University of Georgia Athens, Georgia USA
Transportation
For driving directions to the Georgia Center, click here.
If you prefer to fly to Georgia, we recommend that you fly to the Atlanta Hartsfield-Jackson International (ATL) Airport and take Groome Transportation to come to Athens. Click on Groome Transportation and you will see on the left side of the page, their trip "Schedule", "Fares" and "Reservations." You can use their "Secure Passenger Reservation Form" and make a reservation. You will see from "Schedule" that they make about 18 trips a day from Atlanta airport to Athens and back.
Remember to select a time for your return Groome Transportation which enables you to reach the Atlanta airport about 3 hours before the departure of your flight.
Local Attractions
For a listing of local dining options, visit the Visit Athens GA Restaurant Guide.
Other Athens Attractions:
The State Botanical Garden of Georgia Georgia Museum of Art The Tree That Owns Itself The Double-Barreled Cannon
Atlanta Attractions:
World of Coca-Cola Underground Atlanta The Fox Theatre Atlanta CycloramaZoo Atlanta Historic Oakland Foundation The Georgia Aquarium For a complete listing of attractions in the Atlanta area, click here.
INFORMATION:
The Fourth International Workshop in Sequential Methodologies (IWSM) will be held at the Georgia Center for Continuing Education, University of Georgia, Athens, Georgia, July 18-21, 2013.
The IWSM is organized every two years. The first IWSM 2007 was held at Auburn University, Auburn, Alabama, USA. Then, the IWSM 2009 and IWSM 2011 were held at University of Technology of Troyes, France and Stanford University, USA, respectively. The workshop covers all aspects of sequential methodologies in mathematical statistics and information theory from theoretical developments in optimal stopping, sequential analysis, change detection to different applications in mathematical finance, quality control, clinical trials, signal and image processing, among others. The goal of the workshop is to bring together the researchers and practitioners from all areas within sequential methodologies. The conference will be held at the Georgia Center for Continuing Education (http://www.georgiacenter.uga.edu/uga-hotel) on the UGA campus, where participants can stay, eat and attend the conference. Georgia Center is a state-of-the-art conference facility, situated within walking distance from downtown Athens. The conference arrangements are currently underway and more details about the registration, hotel stay etc. will be forthcoming.
Sponsors