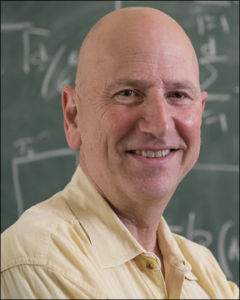 Larry Wasserman
Department of Statistics and Data Science and in the Machine Learning Department
Carnegie Mellon University
UGA Special Collections Library
Agenda
3:30 - 4:00pm- Arrival 
4:00 - 5:00pm- Lecture, Dr. Larry Wasserman, Carnegie Mellon University
5:00 - 6:00pm- Happy Hour (light refreshments will be served)
6:00 - 8:00pm- Dinner and After-Dinner Talk, Dr. Larry Wasserman, Carnegie Mellon University
Click here to view the 2018 Bradley Lecture: Larry Wasserman 
About the Bradley Lecture
The Bradley Lecture is an annual lecture that honors former UGA faculty member Ralph Bradley. Ralph was born on November 28, 1923 in Smith Falls, Ontario, Canada, and grew up in the village of Wellington. After graduating from Queen's University in 1944 with an honors degree in mathematics and physics, he served in the Canadian Army from 1944 to 1945 and completed an M.A. degree at Queen's in 1946. He received his PhD in 1949 at the University of North Carolina Chapel Hill, and went on to a very distinguished career. He was the founder of the Department of Statistics at Florida State University and served as its Head from 1959-1978. He joined UGA in 1982.
Ralph Bradley made many other contributions to Statistics, including as a researcher (in design of experiments, nonparametric statistics, sequential analysis and multivariate analysis) and through an exemplary record of service to the profession (in ASA, IMS, International Biometric Society, ISI), including as President of the ASA in 1981.
The Bradley Lecture series provides an opportunity for UGA graduate students to interact with the speaker, typically an eminent statistician of their choice. After a seminar in the afternoon, the speaker gives an after dinner presentation and often stays for the next day's spring picnic to mingle with faculty and students.
Sponsors