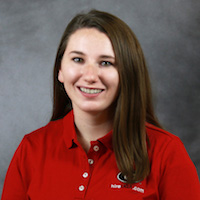 Samantha began working at the University of Georgia Career Center in July 2016 and is excited to be working with students in MIS, MIT, Computer Science, Math and Statistics! Prior to arriving at UGA, she earned her Bachelor of Arts in Psychology at Alma College (Michigan), followed by a Master of Science in Higher Education from the University of North Dakota where she worked as a graduate assistant in the UND Career Services office. She is passionate about helping students explore their interests and the ways those interests relate to their career development. She is most excited about helping students realize their potential and connect with opportunities to further their career preparation. 
Samantha can assist you with all career development related topics including resumes, cover letters, interviewing, job/internship search, networking, LinkedIn, grad school applications, and more! To schedule a one-on-one appointment, call the Career Center front desk at 706-542-3375. You can also find Samantha at the Career Center's walk-in hours on Wednesdays from 12-2 on the 2nd floor of Clark Howell Hall, or in Drop-In hours in the Sanford Hall Coca-Cola lounge on Thursdays from 1:30-3:30.
Samantha may be contacted at samantha.perrin@uga.edu, and follow her on Twitter @uga_mcms to get updated information on job and internship opportunities and events.